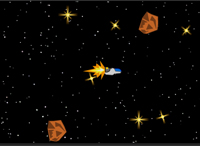 Captain Coppergravel is a very early work of Hero Interactive, released when it was just Jared, and his friend Eric, who were the only ones working. It was released in late 2006.
Captain Coppergravel is a fast paced dodger action game, in which you pilot a spaceship commanded by Captain Coppergravel. The game itself is relatively simple: collect stars, and avoid asteroids, or else you will be destroyed.
Since it is a very early work, not many people have played it. But those who did play it note its simplistic gameplay, but mostly give it a fair rating.