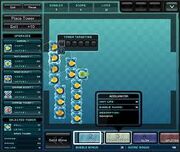 Bubble Tanks Tower Defense 2 or BTTD 2 for short was just released on August 15, 2012. It's a sign that Hero Interactive has not completely died and that it may soon resurrect itself. Feel free to add details as you play the game!
Gameplay
Edit
A new type of level was added, known as closed path. This mode allows the enemies to travel in a certain path without disturbances. This mode is more challenging, because the enemies travel in a path that cannot be obstructed.
Also, there is a difficulty compartment, which contains up to 15 modes.
Difficulty
Edit
Easy, Normal, Hard and Insane
Edit
Classic modes without any changes except difficulty increase. Easy must be played to unlock the other three.
All Splitter/Dodge/Decoy/Boss
Edit
Exactly what the title says in 40 waves.